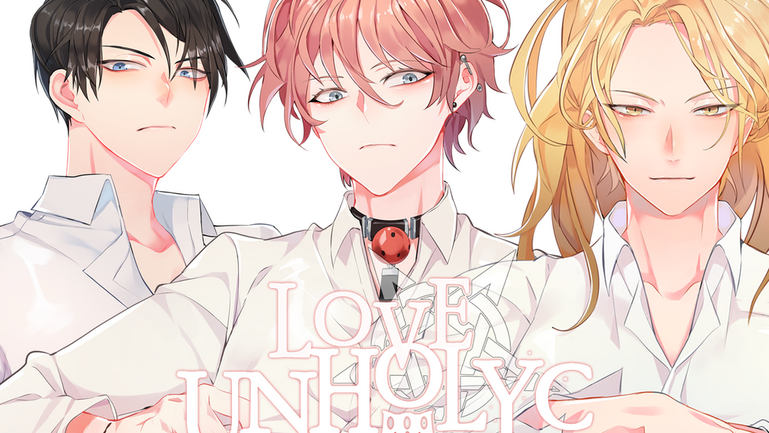 This wiki is unofficial and not spoiler free and is no way affiliated with Prettybusy. Please head over to their social media to follow official updates. The only wiki twitter is: @UnholycFans. We do not run any other twitter accounts. Please contact us there or here if you wish to contribute. Thank you!
You're an Unholyc, a race born between a human and a devil, who specializes in the power to charm and seduce others. In order to become a fully fledged Unholyc, you have been seeking partners but you've accidentally managed to form a contract with three handsome humans...
Unholyc are the descendants of Asmodeus, an ancient demon king of lust that descended upon this land a long
time ago. Apparently, he fell in love with humans and gave birth to the first generation of Unholycs. They
resemble Asmodeus in that they have the ability to charm and seduce others while being able to use powers
like most devils.
Welcome to the Love Unholyc Wiki!
We're a community website about Love Unholyc, (by PrettyBusy), that anyone, including you, can help build and expand. Wikis like this one depend on readers getting involved and adding content. It's unfortunate that we have to apologize that pages had to be locked from other users, since some people have tried to delete data and/or take credit of original creators. Datamined and leaked information on unannounced content is not allowed on the wiki. If you wish to change anything, here is this link where you can ask permission from the admin Discord. Thank you for enjoying the wiki and of course the game!
Albums
Need help building out this community?
You can also be part of the larger Fandom family of communities. Visit Fandom's Community Central!

Community Founders: Write a good and paragraph-length description for your welcome section about your topic. Let your readers know what your topic is about and add some general information about it. Then you should visit the admin dashboard for more tips.
Social Media Links